A peek into my day...for processing details click here...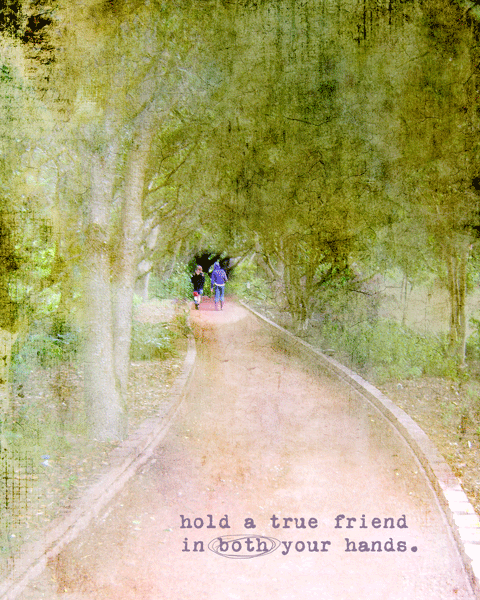 At Clark Gardens on Friday's field trip - Angel and Sophia

FOR TODAY - April 24, 2012
Outside my window...
sunshine, green grass - earth is full of lush hope, that new life brings...
I am thinking...
about life changes, tweener having a birthday this Saturday!
In the kitchen..
.red velvet cupcakes for sweet tweener's special day...
I am wearing...
blue jeans, white button down shirt, and a black and white floral print sweater.
I am creating...
pathways for sweet tweener's success (boundaries, new opportunities, encouragement)
I am wondering...
how to "make the most of the days" (from Ephesians 5)
I am reading...
a book about sensory processing issues...
I am hoping...
for more personal growth throughout the year.
I am looking forward to...
summer!
Around the house...
more organization
-
cleaning out curriculum...space!
I am pondering...
directions, God's purpose and leadings...
A favorite quote for today...
r
One's destination is never a place, but a new way of seeing things – Henry Miller
One of my favorite things...
vintage silverware, vintage dishes, vintage towels and table scarves.
A few plans for the rest of the week:
a sit and sew with the smocking guild...
A Scripture to meditate on from this morning:
You are to come to the place where ADONAI your God will put his name....which is where he will live (Deuteronomy 12:5)
Lectio Divina:
We read the passage slowly:
lectio
We meditate on the Word or phrase:
meditatio
We talk with God: Oratio
We are silent: Contemplatio
I think about how God places His name on our being, and when we receive Him, He lives in our hearts - and here He invites us to come to the place where He puts His name - an invitation to become comfortable, to come home to, our true self...and He wants this so intensely, He placed the encouragement to come to Him, come to where He is living, come into His Presence - in our own hearts and souls. And I wonder how that might change us, our perceptions, the perspective from which we speak and act - if we really understood how His Presence is right here, in me, right now...