FOR TODAY
A peek outside my window:
Playing with photoshop again, trying to get an image to look more painted rather than a photo...
my sweet dh took this picture earlier this spring - looks like the bushes need trimming!
(mouse over to see the before)
I used "Canvas Magic" from Kim's collection on this image, along with several adjustment layers...play, play, play!
Another image - I am amazed at how photoshop can be used to take a really bad photo and transform it - doesn't that sound like what the Holy Spirit does in our lives!
I am happier with this picture than with the one above...I think I am getting the hang of the procedure for painterly effects, but I definitely need more practice, too!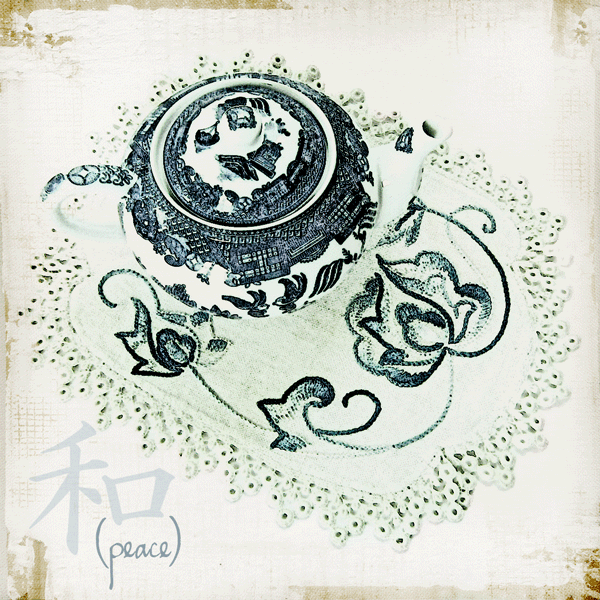 I used Kim's "Fall in" texture along with several adjustment layers + the kanji brush and Haiku font for the wording.
I am thinking...
about how we learn so much better by example rather than by lecture...by being invited to "walk along beside" a person and gaining access to their lives - witnessing the moments strung together and how those moments are embraced or missed...how honest vulnerability is more impacting than something like "do x, y, z for a closer walk with God"...
I am thankful...
for sweet tweener's sweet disposition, for the telephone,
for airconditioning!
In the kitchen...
I made this recipe last night with a pile of tomatoes from the garden and dh loved it (so did I) -
Fresh tomato spaghetti sauce.
I am wearing...
A black tank and wind shorts (it is hot in Texas!)
I am creating...
a T-shirt quilt out of sweet tweener's old shirts + headbands and bracelets out of the remaining T-shirt scraps...I am enjoying being back in the sewing mode again!
I am going...
to the free movies with sweet tweener later this morning...
I am reading...
(actually just finished) a book on creativity by a pastor - an interesting thought from here is that we are responsible to use our creativity just as any of the other gifts He has implanted in us. The book:
CREATE: Stop Making Excuses and Start Making Stuff, by Stephen Altrogge
. He covers all types of creativity and offers us all a holy kick in the pants (really!).
F
rom the learning room
...Science summer camp online - ROBOTS! I am so impressed with sweet tweener as after just one lesson she is now putting together her own robots...
I am pondering...
a question a friend and I were discussing this week - how the church presents worship and the differences...how some churches worship with freedom yet order...it is intimate with gifts flowing and no different than what one does at home in their private times with the Lord, and then how some churches worship with a different...what? Goal? To lead others into worship or instruct/teach the "how"? It seems less vulnerable, less risky? Especially in a corporate setting? Still listening to what He is saying...
One of my favorite things...
the charm of clotheslines.
Instead of a scripture meditation, this is from an old children's book we (sweet tweener and I) found this week. I love these words from God's heart - it is worth reading all the way through as it sums up beautifully the entire Bible(!):
You're looking for answers?
Then here's what to do:
Just turn to the Bible to find what is true,
And listen to everything I say to you.
You won't find a picture of Me in a book.
There isn't one person who knows how I look.
But don't be upset that you can't see My face.
You can look at My work in this beautiful place.
I've been alive since before time began;
I made the whole world by My very own plan.
I'm as tall as the heavens; I'm as wide as the sea.
But even your hairs are all counted by me.
My voice can be gentle and silent and still,
And also like thunder that roars through the hills.
I sing with the waves and the whistling breeze.
And joining my song are the hills and the trees.
I'm strong as a fortress, a rock, and a shield.
But as gentle as rain falling softly on fields.
When you are unhappy that makes Me feel sad.
I'm filled with great joy when I make your heart glad.
My anger comes slowly and fades like the night.
There's no darkness in Me, just goodness and light.
I live in the world and in heaven above.
I live in the hearts of My people who love.
For I AM the Maker of heaven and earth.
I spoke, and My Word brought all life into birth.
I AM like a mother who comforts your fears
And tenderly wipes away all of your tears.
I AM like a father who wants to provide,
to care for your needs and to stay by your side.
I AM the Creator, the first and the last,
I'm God of the present, the future, the past.
I AM the good shepherd, who cares for each lamb.
I AM the Almighty, I AM WHO I AM.
I'll love you forever, whatever you do,
For nothing can separate My love from you.
I've loved everything that I made from the start.
My world and My people I hold in My heart.
Kathleen Long Bostrom